£7M investment at new Wastewater Treatment Works in North Wales.
Amlwch is situated on the North Eastern corner of Ynys Môn (Anglesey). A small town, with a long history of working traditions. The town grew with the development of copper mining on nearby Mynydd Parys (Parys Mountain), and was once the world's most productive Copper Mine. Amlwch today still offers a wealth of interests to the resident and visitor alike. Amlwch has a residential population of 3,438 with a total catchment population equivalent of 6,703.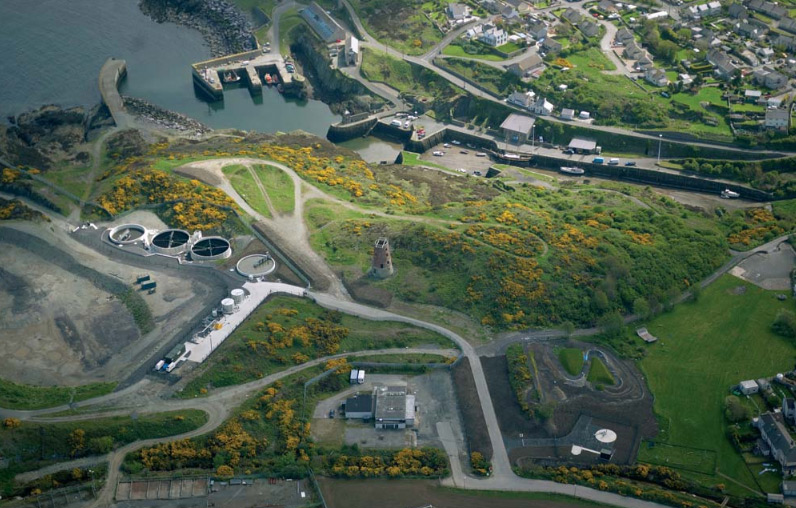 The challenge – the solution
The catchments of Amlwch and Llaneilian previously discharged untreated sewage directly to the sea. For Dwr Cymru Welsh Water (Welsh Water) to comply with the requirements of the Urban Waste Water Treatment Directive (UWWTD) it was proposed that wastewater treatment was provided for these catchments. Various studies and survey work undertaken in AMP 3 resulted in a feasibility report which concluded that the preferred solution was to provide a network solution consisting of two FFT pumping stations at Llaneilian and Craig-Y-Don, and a new wastewater treatment works (WwTW) at Amlwch to treat the wastewater passed forward from the new pumping stations.
The preferred location for the new WwTW was at the abandoned Shell Oil Terminal. This land was previously owned by the Great Lakes (UK) Ltd chemical company, and is currently owned by Canatxx Ltd. Wastewater flows from Amlwch and Llaneilian would be pumped to the new WwTW, and Welsh Water's preferred treatment would be primary sedimentation and biological filtration. This work was originally to have been completed in AMP 3, however difficulties in obtaining land for the site of the proposed wastewater treatment works prevented this being achieved.
Prior to the scheme starting in March 2008 there was only crude outfall in Amlwch and Llaneilian. The Amlwch WwTW scheme included primary treatment, biological treatment, final settlement and sludge storage processes at the works. It also included two new pumping stations with storm storage, complete with CSO screens within each catchment to pass forward the flows to the new works. The two new pumping stations were located within the newly constructed storm storage chambers and were provided with upstream CSO screens that would serve the areas of Llaneilian and Craig-y-Don. The pumping stations then pass forward flows for treatment at Amlwch WwTW.
The pumping station, storm storage and CSO at Llaneilian were built on land adjacent to the existing macerator installation owned by Welsh Water. In addition to this work, a nutriox dosing unit, flow measurement and MCC housed in a GRP kiosk were provided at the pumping station.
The pumping station and CSO at Craig-y-Don was constructed on a greenfield site. In addition to this work, flow measurement and MCC housed in a GRP kiosk were provided at the pumping station.
All information on this page is published and owned by www.waterprojectsonline.co.uk and is used with courtesy. All images used on this page Courtesy of Dŵr Cymru Welsh Water.